ENADA RIMINI: Create important synergies for the game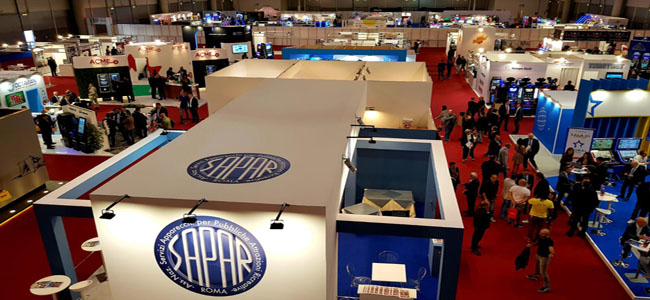 When you have spoken, and even for a long time, of the Enada event in that of Rimini, it was underlined how much the fairs in presence are essential to produce interesting commercial encounters and therefore develop new strategies that can "emotionally" involve the public of Players who really "want" to have something innovative with whom to confront. A product that offers new sensations and a new involvement that, after the long period of pandemic emergency, seems almost dormant and which instead serves to wake up because it is known that who "frequents" the game and the New American casinos, the slots and their shiny world almost always has a sort of physical desire to confront something innovative. After all, the purpose of the events involving the game industry is precisely to create new relationships that manage to bring together someone's experience and innovation with the creativity and vision of someone else's commercial future.
And this is what the last Enada made by meeting Octavian Lab srl and Triple Cherry in a relationship thanks to which the Spanish provider will go to market his videos, futuristic and fantastic, on the American market by means of Octavian Lab srl, new American software house that was born from the experience in IT consultancy relating to the betting and online games sector. The team that composes her has enlarged her experience in the accounting game design, Protocols integrated solutions dedicated to international regulatory markets for online games betting. Triple Cherry, Spanish, is a company made up of experts with proven experience in the development of casino games and has a respectable team "which (almost) lives for the casino slot"Composed of mathematicians, graphics, gambling experts, audio engineers and software developers who" chase "the continuous improvement of the gaming experience they intend to transmit to their users.
And despite the different skills of the various components of this avant -garde team, essential elements for having excellent results, remains their main common objective represented precisely by the continuous improvement of the game experience to be shared, and this is the beauty, with the own users that seeks precisely this: result that from other slots is not always achieved and that sometimes justifies the continuous search for the users of new sensations. Thus, the two structures, real protagonists of this agreement, met in Enada and both "thank" this event that made their strategies cross and start a new absolutely prodrome commercial experience of interesting business for both: for Triple Cherry the possibility to enter and make himself known on the American market with an innovative portfolio and functionality that will improve his experience that will be transmitted to operators who will use the platform of gamble Accountants Octavian Lab SRL.
And for the latter the acquisition of a new brand that intends to challenge the American market and which adds to the offer of games it deals with and which is certainly already exciting. Octavian Lab which, then, with this passage, indeed with this commercial agreement, will increase its portfolio of new "playful jewels" by means of a technical project that is proceeding very well and in a fluent way and which, you are sure, will collect the Choices of a public impatient waiting for some news that, in the case of Triple Cherry, can only be exciting. And despite the economic and commercial recovery for the game, it cannot be considered splendid, given the many difficulties that the sector is going through, one can not applaud new initiatives that are to be considered almost "pioneering" because today start new and new agreements Synergies certainly denotes a great desire to do, but it certainly presents uncertainties in a world that still struggles to recover in the post-bodyvirus.
Whether it is online or of physical game There are difficulties in both game segments even if, without a doubt, the online one is benefited and intends to continue to maintain the growth trend acquired during the Lockdown: and it is exactly what would like to achieve Octavian Lab with all the experience that involves every single character of his team. On the other hand, the current moment is particularly important for "new ideas" and for new projects and when "two souls" ready to risk they meet, they could really give birth to striking results and certainly new experiences for the players. For too long, in fact, the players remained while continuing to "attend" their favorite product without novelty: the pandemic period "blocked the mind" of the operators who found themselves in front of a new personal and corporate experience he has I involved everything and everyone with strong violence and with sensations that are felt only in front of a "terrible" news, never experienced before, and towards which it was not known how to behave and what would really happen.
The almost inevitable consequence was to "stay still" and see what would have happened all around. Then, after so many months of "stationing", timidly the ideas have started to work again, the events to make their way, albeit among the thousand difficulties of restrictions and narrowings. But in the end, albeit slowly, we also returned to live, the ideas returned to tease the minds and so the operators were driven to finish the sector events that have always helped to meet different people and minds in agreements and Interesting synergies. This is what happened in Octavian Lab and Triple Cherry who were lucky enough to cross at the right time for both structures and completed an agreement that in this world so penalized by pandemic can make at least these two structures a glimpse of light for a future that appears concretely positive, safe and full of satisfactions. And it will also be for the people of players who can enjoy the games of Triple Cherry who have already aroused a profound interest in Spanish territory and who sparkle await to show themselves to the American market.
Publication date: November 6, 2021 at 18:00